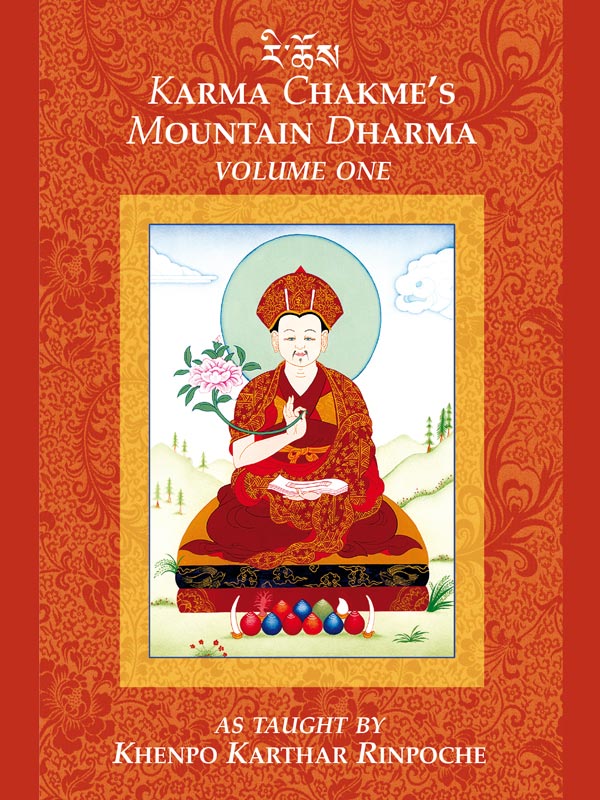 Karma Chakme's Mountain Dharma: Volume 1
འཕྲུལ་དེབ་ཕབ་ལེན།
དཔེ་སྐྲུན་བྱེད་མཁན།
Publisher
出版者
KTD Publications
རྩོམ་པ་པོ།
Author
作者
མཁན་པོ་ཀར་མཐར།
Khenpo Karthar Rinpoche
སྐད་རིགས།
Language
語言
English
སྒྱུར་བ་པོ།
Translators
譯者
Lama Yeshe Gyamtso, Chojor Radha, Namgyal Khorko
དཔེ་སྐྲུན་པར་གཞི།
Print edition
印刷版
Namse Bangdzo online shop
འཕྲུལ་དེབ་ཀྱི་པར་གཞི།
Ebook edition
電子書版本
2021-10-06
ཐུགས་སྣང་དགོས་པ།
Terms of Use
使用須知
Karma Chakme's Mountain Dharma is a complete text for those who want to practice Tibetan Buddhism, translated and published by KTD Publications in four volumes (the restricted chapters, not included in these volumes, are available at Karme Ling Retreat Center with the permission of one's teacher).
His Holiness the Sixteenth Karmapa (Rangjung Rikpe Dorje, 1923-1981) indicated that it was his wish that Khenpo Karthar Rinpoche present Karma Chakme's Mountain Dharma to Western students. In accordance with this wish, Khenpo Rinpoche began teaching this text in the Year of the Earth Rabbit, February 1999, at Karma Triyana Dharmachakra, the North American seat of His Holiness, located in Woodstock, New York. The teachings took place on weekends over the subsequent four years concluding in the Year of the Water Sheep, April 2003. The original text by Karma Chakme Rinpoche was written in the Year of the Horse, 1659.
Volume One contains a namthar of Karma Chakme Rinpoche; and covers foundational teachings that include the four thoughts that turn the mind to the Dharma, the three vehicles, and the vows and precepts. It contains extensive and beautiful teachings on the Mahamudra preliminaries (ngondro), and how to apply these and other practices in order to benefit others. Although the emphasis is on the Kagyu and Nyingma lineages, all traditions of Tibetan Buddhism are included.
As Khenpo Karthar Rinpoche explains in the book:
"Consider that you cannot possibly be with your guru for your entire lifetime. You will be away from your teacher sometimes doing retreat or practicing alone. What will you do if you always have to rely upon the physical presence of your guru? Karma Chakme Rinpoche answers that if you become familiar with all fifty-four chapters of these oral instructions for mountain retreat, it is like having a guru right there with you. "Just carry this textbook," he says. "The moment you are not clear, read that chapter. It is like having a guru there ready to explain everything. You do not have to obtain fifty or sixty different volumes of textbooks. If you become well acquainted with this text, you have everything necessary to achieve enlightenment. You have all you need to successfully undertake any practice, from the most basic to the complete Tantrayana."
Preface
Advice from Khenpo Rinpoche
Introduction
Short Biography of Karma Chakme Rinpoche
Biography of Khenpo Karthar Rinpoche
Karma Chakme's Mountain Dharma: Volume One
Namthar: The Spiritual Biography of Karma Chakme Rinpoche
Precious Garland: A List of Contents to Prevent Disorder
Seeing It Makes You Smile: Ordinary Beings Entering the Gate of Dharma
Putting Away the Dice: Abandoning Samsara's Path
Gandi of the Nobles: The Three Vehicles
Disk of the Sun: The Way of Protecting the Three Vows
Going for Refuge, Which Protects from All Danger and Fear
The Generation of Bodhichitta, Which Is the Great Path of Awakening
The Cooling Shade: Placing Others Under the Protection of the Three Jewels
Dispelling All Obstacles: Visualizations to Benefit Others
The River of Ambrosia That Purifies Obscurations: Vajrasattva Practice
The Mandala Offering, Which Accumulates a Mountain of Merit
The Guru Yoga That Is a River of Blessings
Dedication
Glossary
Index of Stories Told by Khenpo Rinpoche
About KTD Publications