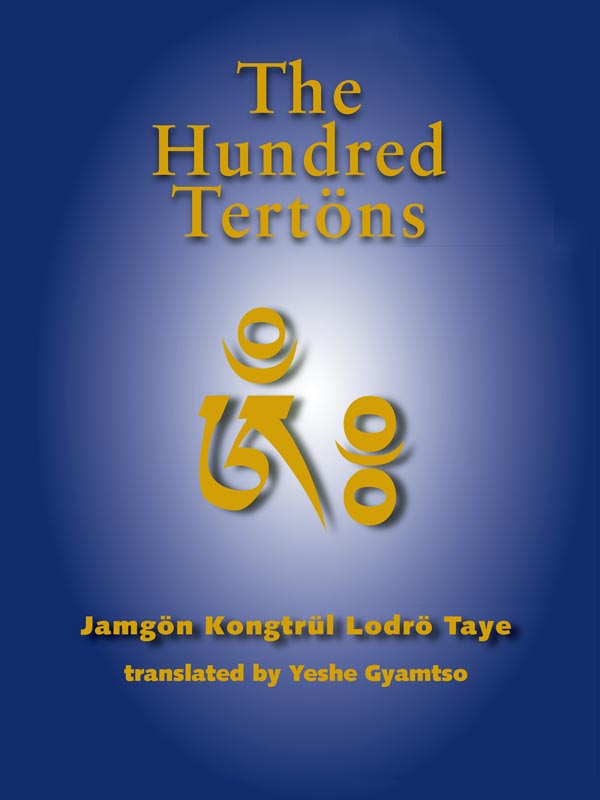 The Hundred Tertöns: A Garland of Beryl
Brief Accounts of Profound Terma and the Siddhas Who Have Revealed It
The Hundred Tertons (གཏེར་སྟོན་བརྒྱ་རྩའི་རྣམ་ཐར།) is Jamgon Kongtrul's history of the visionary men and women who have, again and again, renewed the Vajrayana Buddhist tradition of Padmasambhava. Kongtrul's book includes biographies of Padmasambhava, his twenty-five disciples, Longchenpa, Jikme Lingpa, Chokgyur Lingpa, and many others. Considered a seminal work of Tibetan Buddhist history, The Hundred Tertons for the first time available in English translation was printed by KTD Publications in 2012 and now is available in electronic edition.
Foreword by KHENCHEN THRANGU RINPOCHE:
"The termas concealed in lakes and rock by Guru Lake Born Vajra, the second Buddha, and other great vidyadharas have been revealed by the hundred tertons, each of whom has taken intentional birth in order to reveal them at the appropriate time. This book, written by Jamgon Lodro Taye, gives their biographies. Thinking, "If it is translated into Western languages, it will genuinely inspire dharma practitioners,"
I expressed this hope to the translator Lama Yeshe Gyamtso. He has gone to great effort in order to fulfill my hopes, for which I thank him. So that his effort not go to waste, I ask that you who practice dharma study this book, increase your faith in and devotion for these extraordinary tertöns and their profound terma, and bring your practice to its fruition."
Foreword: Khenchen Thrangu Rinpoche
Translator's Introduction
The Hundred Tertöns
Part One: Supporting Quotations and Arguments
Part Two: An Account of the Deeds of the Teacher of this Dharma and his Disciples
King Trisong Detsen
Nupchen Sangye Yeshe
Gyalwa Chokyang
The Bhikshu Namkhay Nyingpo
The Translator Nyak Jnanakumara
Yeshe Tsogyal, the Emanation of Sarasvati
Drokmi Palgyi Yeshe
Lang Palgyi Senge
The Great Translator Vairochana
Gyalmo Yudra Nyingpo
Nanam Dorje Düdjom
The Acharya Yeshe Yang
The Mahasiddha Sokpo Lhapal
Nanam Yeshe De
Kharchen Palgyi Wangchuk
Denma Tsemang
The Great Translator Kawa Paltsek
Shubu Palgyi Senge
Bay Gyalway Lodrö
The Mahasiddha Kyeuchung Lotsa
Drenpa Namkha
Odren Palgyi Wangchuk
Ma Rinchen Chok
Lhalung Palgyi Dorje
Langdro Könchok Jungne
Lasum Gyalwa Jangchub
Dhatishvari Mandarava
Mamaki Shakyadevi of Nepal
Pandaravasini Kalasiddhi
Samayatara Tashi Khyidren of Bhutan
Part Three: Biographies of Those Who Have Revealed These Teachings
Section One: Earth Terma
Sangye Lama
Gya the Translator
Nanampa
Gya Shangtrom Dorje Öbar
Nyima Senge
Shakya Ö the Teacher from Uru
Bönpo Draktsal
Nyemo Shuyay
Ngödrup the Siddha
Tsuklak Palge
Kusa the Physician
Lhabum the Bönpo
Khyungpo Palge
Shami Dorgyal
Dangma Lhungyal
Drapa Ngönshe
Rashak the Great
Nyangral Nyima Özer
Wönsay Khyungtok
Ramo Shelmen
Guru Chökyi Wangchuk
Guru Jotsay
Padma Wangchuk
Doben Gyamtso
Rakshi the Teacher
The Physician from E in Jarong
Dragom Chödor
Yakchar Ngönmo
Drum and Karnak
Lhatsün Ngönmo
Nyima Drakpa
Padma Ledrel Tsal
Tseten Gyaltsen
Meben Rinchen Lingpa
The Nirmanakaya Ugyen Lingpa
The Omniscient Longchenpa
Rokje Lingpa
The Great Tertön of Mindröling
Padma Kunkyong Lingpa
Chokden Gönpo
Ugyen Tenyi Lingpa
Dorje Lingpa
Sangye Lingpa
Padma Lingpa
Jatsön Nyingpo
Samten Dechen Lingpa
Shikpo Lingpa
Dechen Lingpa
Gyaben Dorje Ö
Guru Humbar
Lhatsün Jangchup Ö
Atisha
Shangtsün Tarma Rinchen
Rongzom Chökyi Zangpo
Dorbum Chökyi Drakpa
Sangye Bar
Setön Ringmo
Gya Purbu
Geshe Dranga Dorje Kundrak
Lharjey Nupchung
Gyatön Tsöndru Senge
Chetsün Senge Wangchuk
Sarben Chokme
Nyen the Translator
Shakya Zangpo
Zangri Repa
Nyalpo Josay
Sangye Wangchen
Chupa Tokden
Bakhal Mukpo
Prince Mekhyil
Drugu Yangwang
Sumpa Jangchup Lodrö
Taklungpa Sangye Wönpo
Nyalpa Nyima Sherap
Trophu the Translator
Yeben Yabön
Balpo Ah Hum Bar
Ajo Palpo
The Three Tertöns
Dugu Rinchen Senge
Tsangring Sherap
Latö Marpo
Jomo Menmo
Melong Dorje
The Fortunate Child
Drangti Gyalnye Kharbu
The Four Assistants
The Earlier Dungtso Repa
Kunga Bum
The Later Dungtso Repa
Vajramati
Gyalsay Lekpa
Ugyen Zangpo
Sherab Mebar
Nyida Sangye
The Mantradharin Letro Lingpa
Zangpo Drakpa
Drime Lhunpo
Drime Kunga
Ngödrup Gyaltsenthe Vidyadhara Vulture Feathers
Palgyi Gyaltsen of Langlo
Karma Lingpa
Palden Jamyang Lama
Thangtong Gyalpo
Gönpo Rinchen
Ratna Lingpa
Kalden Dorje
Chokden Dorje
Chak Jangchup Lingpa
The Mantradharin Shakya Zangpo
Drodül Letro Lingpa
Jampal Dorje
Padma Wangyal Dorje
Mingyur Letro Lingpa
Namchak Mebar
Sherap Özer
The Great Vidyadhara of Ngari
Matiratna
Tsering Dorje
Khyentse Wangchuk Dongak Lingpa
Karma Guru
Ngaki Wangpo
Garwang Letro Lingpa
Yongdzin Ngawang Drakpa
Tashi Tseten
Padma Rikdzin
Düdül Lingpa
Düdül Dorje
Longsal Nyingpo
Tendzin Norbu
Zangpo Dorje
Garwang Dawa Gyaltsen
Yongey Mingyur Dorje
Kuchok the Actionless
Pönsey Khyungtok
Samten Lingpa
Ratön Topden Dorje
Khampa Rinpoche
Rölpe Dorje
Padma Dechen Lingpa
Padma Chögyal
Padma Wangchuk
Khyungdrak Dorje
Tsewang Norbu
Tsasum Terdak Lingpa
Tukchok Dorje
Drime Lingpa
Kunzang Dechen Gyalpo
Rokje Lingpa
Garwang Chime Dorje
Dorje Tokme
Rangdröl Tingdzin Gyalpo
Chokgyur Lingpa
Chögyal Dorje
Padma Ösal Dongak Lingpa
Other Revealers of Earth Terma
Section Two: Mind Terma
Dawa Gyaltsen
Rechungpa
Shakyashri
Yutok Yönten Gönpo
Kyergangpa
Rangjung Dorje
Longchenpa
Lekyi Dorje
Palden Dorje
Shrivanaratna
Kunga Paljor
Samten Lingpa
Tongwa Dönden
Rechen Paljor Zangpo
Bodong Sangye Gönpo
The Drukpa Kagyu Wrathful Kilaya
Jatsön Mebar
Tashi Gyamtso
Drikung Shapdrung Könchok Rinchen
Drikungpa Chökyi Drakpa
Lhatsün Namkha Jikme
Sangdak Trinley Lhundrup
The Fifth Dalai Lama
Bhuprana
Namchö Mingyur Dorje
Karma Chakme
Dorje Drakpo
Padma Nyinje Wangpo
The Eighth Pawo Rinpoche
The Fourth Chakme Rinpoche
Padma Gyepa
Tsewang Mingyur Dorje
The Omniscient Jikme Lingpa
Padma Chöjor Gyamtso
Jikme Trinley Özer
Ngawang Dorje
Kunzang Ngedön Wangpo
Mingyur Namkhay Dorje
Conclusion
Alphabetical list of the Hundred Tertöns